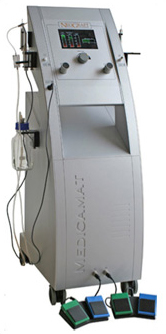 To many Pasadena residents, a full head of hair represents attractiveness and desirability both personally and professionally. For this reason, it is vital to understand what effects a hair restoration procedure can have on your daily interactions with people and in all other aspects of your life. Hair Restoration should be unnoticeable to all but those you tell.
The facts are that 40 million men and approximately 21 million women, including many in Los Angeles County and the Inland Empire suffer from male/female pattern baldness or thinning hair. Many potential patients shy-away from (or are not candidates for) the traditional "strip method" of hair replacement because of the slow recovery time, the loss of feeling at the incision site, the tiny linear scar on the back of the head, or the amount of post-operative pain involved.
After much research, we have chosen to offer the Follicular Unit Extraction (FUE) method utilizing the NeoGraft® Automated Hair Transplantation device. The FUE method of hair transplantation removes individual hair follicles from the scalp in their naturally occurring groupings of about 1-4 hairs and are then placed in the areas of the scalp where balding has occurred.
Learn How Our Hair Restoration Technologies Can Help You
Schedule Today to Save $250
Free Hair Loss Consultation
Get Answers to All Your Questions – (844) 626-HAIR (4247)
Top 10 Reasons Why NeoGraft® is the Solution:
It is the least invasive procedure for hair transplantation.
Patients who receive NeoGraft® feel little to no discomfort.
No stitches or staples are used in the NeoGraft® procedure.
No linear scar.
Flexibility for any hair style of your choice, short or long.
Shorter recovery time.
Fewer restrictions on your normal daily activities.
Patients can typically go back to work the next day.
More natural looking results.
Shorter procedure time, significantly faster than manual FUE.
Stewart Wang, MD, FACS
Your Hair Restoration Doctor in Pasadena, CA
Dr. Wang grew up in San Gabriel Valley and attended college at the University of Southern California, where he received both an undergraduate degree in biomedical engineering as well as his Doctorate of Medicine degree. He completed his surgical internship at LA County-USC Medical Center and his general surgery residency at the State University of New York Health Science Center, Brooklyn. His extensive surgical training also included two years of a microvascular research fellowship, which led to presentations at surgical meetings and publications in peer-reviewed journals.
Finding his passion for blending creative artistry and science, he chose to pursue a career in aesthetic plastic surgery. His plastic surgery training was completed at the highly respected University of Southern California Plastic Surgery Program. Dr. Wang has attained board certification from the American Board of Plastic Surgery (ABPS) and American Board of Surgery, and has also achieved advanced certification as a Fellow of the American College of Surgeons (FACS).